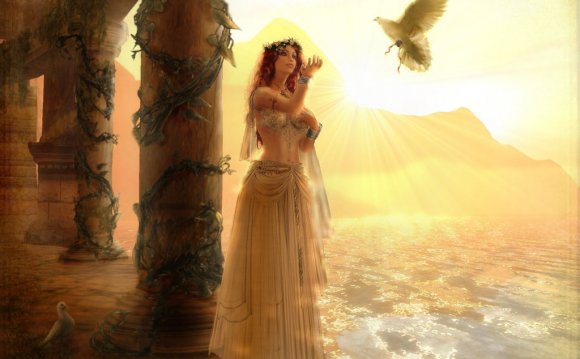 Freya was a warrior goddess, a Valkyrie, and also the goddess of sensual love. Though this captivating goddess had numerous lovers, she was the wife of the mysterious Norse god Od.
Freya was a spectacular beauty known for her appreciation of romantic music and stunning floral arrangements. That was her softer side; she was also known as the goddess of war and death.
As leader of the Valkyries, she had considerable power. She had the right to claim half the souls of the bravest warriors who died in battle. Actually going onto the battlefield, she would gather them up and take them back with her to spend the after-life in her home in perpetual rest and recreation. A sweet and generous woman, she always invited their wives or lovers to come and live with them.
The other half of the heroic warriors, who belonged to Odin, would be gathered up by the Valkyries and taken to Valhalla where they were able to live in comfort and honor.
She was also called upon to comfort those who were dying, to ease their transition into Valhalla (the "otherworld"), serving as a guide and companion on the journey to Valhalla for many Viking heroes who had died nobly.
When Freya and the Valkyries rode forth on their missions, their armor caused the eerily beautiful flickering light that we know as the Aurora Borealis, or Northern Lights.
Freya and Od were wed, but soon after their wedding Od disappeared and all feared that he was dead, perhaps killed by the ruling deities for disobeying their orders.
Freya was distraught and cried tears of gold, but refused to accept that he was dead. Putting on a magical cloak made of falcon feathers that allows the wearer to fly across vast distances very quickly, she rose into the sky and searched all over the earth for him.
Indeed, Od had not died but had been banished and lost at sea. When Freya found him he had already degenerated into a sea monster. Hideous as he appeared, Freya stayed by his side and comforted him.
When someone stumbled upon the sea monster and killed him, Freya was enraged and threatened to take her revenge for the slaying the most noble of the gods. Fortunately it all worked out as Od was admitted to Valhalla even though he had not died in battle, and was allowed to have conjugal visits from Freya so that the two were never separated by his death.
Freya's name was "The Lady" or "mistress", and may be the source of our name of the fifth day of the week, Friday. With her twin brother, Fryr ("The Lord"), these divine twins were the Norse deities...
Source: www.goddessgift.com
Share this Post