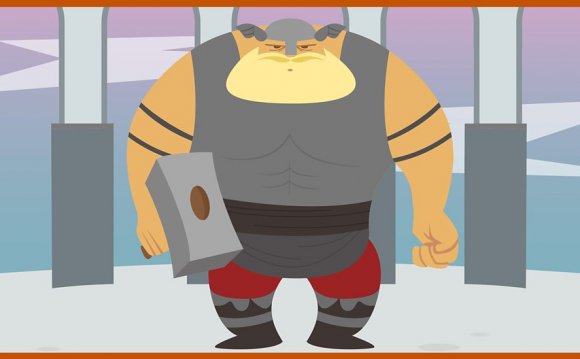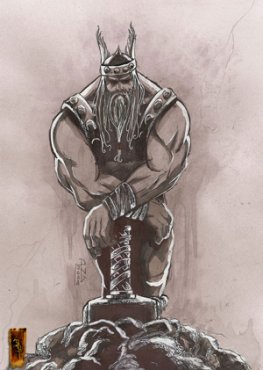 Also known as the Thunderer, was considered to be a son of Fjorgyn (Jord) and Odin by some, but among many tribes Thor actually supplanted Odin as the favorite god. He is considered to be the protector of all Midgard, and he wields the mighty hammer Mjollnir. Thor is strength personified. His battle chariot is drawn by two goats, and his hammer Mjollnir causes the lightning that flashes across the sky. Of all the deities, Thor is the most "barbarian" of the lot; rugged, powerful, and lives by his own rules, although he is faithful to the rest of the Aesir. The day Thursday (Thorsdaeg) is sacred to him.
Thor is married to Sif, a fertility goddess, with whom he had a daughter, Thrud. He also had a mistress, the giantess Jarnsaxa with whom he had two sons, Magni and Modi. Thor is helped by Thialfi, his servant and the messenger of the gods.
Thor was the god of war, thunder and strength. Thor destroyed the enemies of the gods with his magic hammer. It was he who chased away the frosts and called gentle winds and warm spring rains to release the earth from its bondage of ice and snow. He was also the god of the household and of the common people. He even married Sif a peasant woman. The lightning's flash was his mighty hammer, Mjollnir, hurled in battle with the frost giants, and the rolling thunder was the rumble of his fiery chariot.
Thor was a good-natured, careless god, always ready for adventure, and never tired of trying his great strength. He could shoulder giant tasks with the greatest ease and slay bulls with his bare hands. For sport he sometimes rode among the cloud-veiled mountains, hurling his hammer at their peaks and cleaving them in twain.
This adventurous god once visited Jotunheim, the land of the giants. The king of the giants looked at him scornfully and said, "Is this stripling the mighty god, Thor? Perhaps you are mightier than you appear. What feats do you deem yourself skilled in?" I will test my prowess in a drinking bout with anyone, " smiled Thor.
Source: thenorsegods.com
Share this Post