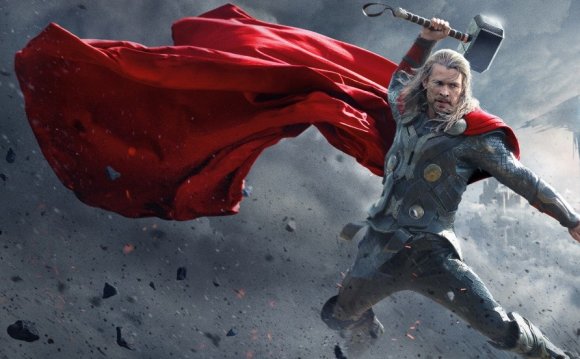 Disney/Marvel's, the third pic in the superhero franchise, hits screens this fall. Today, we've got the first teaser. Set to Led Zeppelin's "Immigrant Song, " the clip introduces new cast members including Cate Blanchett's ruthless villain Hela, Tessa Thompson's Valkyrie and Jeff Goldblum's Grandmaster. It also sees Chris Hemsworth's Norse god meet up with former ally and fellow Avenger, The Incredible Hulk (Mark Ruffalo). But in the gladiator pit where they're about to face off, Hulk doesn't look quite so pleased to see his "friend from work."
Tom Hiddleston, Idris Elba and Anthony Hopkins are also back with new addition Karl Urban. New Zealand-born helmer Taika Waititi, whose credits include last year's hit Hunt For The Wilderpeople and 2014's Sundance vampire mockumentary What We Do In The Shadows, takes over the helm — and lends some laughs to the proceedings.
Thor has been imprisoned on the other side of the universe without his mighty hammer and finds himself in a race against time to get back to Asgard and stop Ragnarok — the destruction of his homeworld and the end of Asgardian civilization — at the hands of Hela, an all-powerful new threat. But to do so, he must first survive a deadly contest that pits him against Bruce Banner's alter ego. Check out how that goes in the teaser above.
Kevin Feige is producing with Louis D'Esposito, Victoria Alonso, Brad Winderbaum, Thomas M. Hammel and Stan Lee serving as executive producers. The screenplay is by Craig Kyle & Christopher Yost and Stephany Folsom and Eric Pearson (credit not final).
Source: deadline.com
Share this Post